Small Business Services
Initially The Kosher Coupon Lady was just teaching Small Business Marketing Classes where I teach how to market your small business on budget. I have recently decided to expand this idea and put my skills to good use. This package is designed to help businesses with their promotional needs at the most reasonable prices.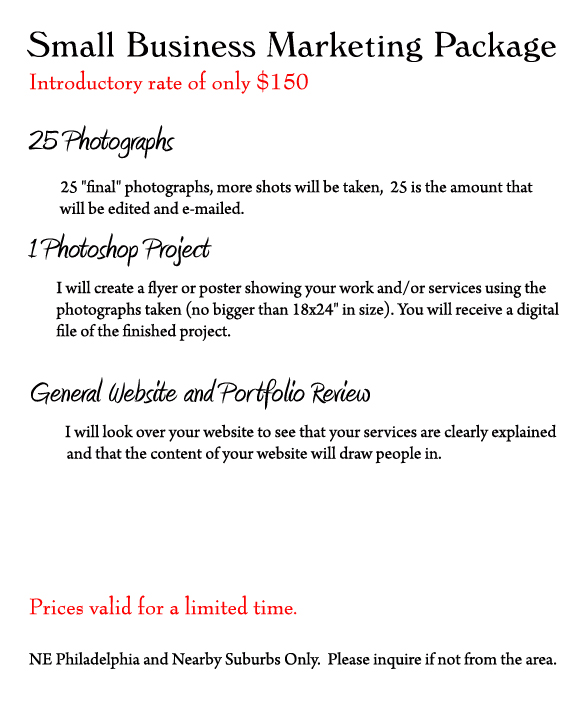 Example:
Say you own a salon: If you offer hair, nails and waxing, this is what your package would look like:
25 Photographs:
    9 Photographs of hair cuts (3 of each hair type) – three curly, three straight and three wavy (various lengths)
    5 Photographs of hair dyeing and highlights, one single-process dye job, one double-process dye job, one full highlights, one partial highlights, 1 glaze
    5 Photos of your salon staff – In this example, there would be 5 stylists, one taken of each stylist
    3 Photographs of nails – One french (or another formal style), one "funky" style and one showing "tips"
    2 Photographs of waxing – Eyebrows: one before, one after or two different eyebrow styles
    1 Photograph of the interior of the salon
These pictures would be used as a portfolio and put on the salon's website by their web designer.
I would then make sure the text content corresponding to the pictures is well-written and professional.
Finally, I would take several of those photos and create a flyer or poster based on the salon's needs.
To inquire about these services, please e-mail TheKosherCouponLady@gmail.com.